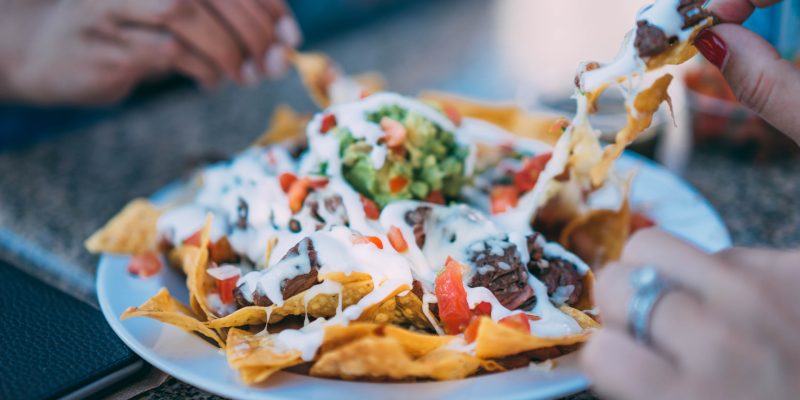 Idyllens

>

In the kitchen
Nachos made from tortillas. Recipe for homemade nachos
You need about 3 min. to read.
Who doesn't love nachos? This delicacy of Mexican cuisine has already entered our cinemas for good, as well as favorite snacks at parties. No wonder, because they are delicious, light and can be combined with various dips. Did you know that you can make them yourself at home? All you need is any tortilla and our proven method. We guarantee that you will have a hard time going back to the ready-made alternative. Here's how to prepare delicious nachos in your own home!
Homemade nachos – why should you make them at home?
Nachos are a great snack for any occasion. They can be prepared in many different ways. Both spicier and milder alternatives will work perfectly, depending on your needs and preferences. In addition, they will be chemical-free versions, which can also be served to children without fear. They will certainly be perfect for picnics and kinder parties. You can also prepare them as a healthy snack alternative for the cinema or a school trip.
Instant nachos at home – how to prepare them?
A quick form of snacking will work well in a world where time is of the essence. So, if you want to surprise everyone with delicious food with interesting toppings, homemade nachos will be a hit. You can serve them with a variety of dips. They will go great with guacamole, tomato sauce or cheese version. They will certainly enrich the dish. They also taste great sprinkled with cheese or bacon.
Ingredients for homemade nachos:
4 large wheat or whole wheat tortillas,
2 tablespoons of olive oil,
2 teaspoons of spices: sweet paprika, hot paprika, oregano,
half a teaspoon of salt,
baking paper.
How to make homemade nachos?
At the outset, it is worth noting that you can use both the ready-made version of tortillas with a good composition or prepare them yourself at home. However, certainly the former option will be faster.
1.To begin with, prepare a mixture of spices and mix them thoroughly with olive oil.
2.Using a brush or your hands, grease the tortillas on both sides with the previously prepared mixture. It is important that it is well distributed over the entire surface of the pancake.
3.Greased tortilla must not be too greasy, so that it can be quickly and easily cut into smaller pieces, preferably in triangles. It should come out about 12 of them.It is advisable that they are not too small, remember that they will shrink slightly during baking. For that, too long ones may not be very handy when eating.
4.Spread baking paper on a baking tray and arrange the triangles far apart from each other, so that they do not stick together during baking.
5. set the oven to 180 degrees Celsius and bake for about 6 to 10 minutes. It's a good idea to flip them over halfway through baking. Take the nachos out of the oven only when they turn brown. It all depends on what kind of oven you have.
6.After cooling, it's a good idea to store them in a tightly sealed box, and they will stay crispy and delicious longer. Don't forget to serve sauces, which you can also make yourself.
main photo: unsplash.com/Herson Rodriguez