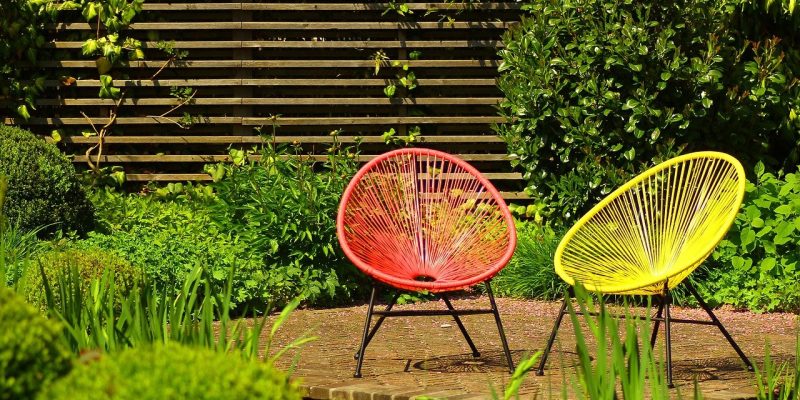 Do you have a set of garden furniture and wonder how to prolong its life? If you can't hide the furniture in case of inclement weather, it's worth sewing special covers. See how to do it!
DIY covers for garden furniture
Finding the right covers for garden furniture is sometimes difficult. Products available in stores do not always fit in size on our furniture, especially if your garden lounge set has non-standard dimensions. In addition, ready-made covers are often not of the best quality and are relatively expensive. Therefore, if you have manual skills, own a machine and like to sew, it is worth considering the option of making garden furniture covers yourself. We suggest how to do it.
Choose the right fabric
Before you start sewing, you need to gather all the necessary materials and accessories. Start assembling them by finding the right fabric. Remember to bet on a fabric that is waterproof and durable, as well as resistant to the effects of sunlight. Choosing such a material, we have a guarantee that the garden furniture covers we sewed will serve for at least several seasons and will not lose their original shape and color too quickly. An excellent choice will be fabrics with polyester fibers with the addition of polyurethane, they are characterized by high durability and water resistance of up to 150 cm water column. Remember that for polyester fabrics, choose those with a weight in the range of 200-260 g/m². Such fabrics are somewhat stiff and inflexible, which makes it much easier to give them the right shape if you do not have much sewing experience.
If for some reason you do not like fabrics with polyester fibers with the addition of polyurethane, you can choose to buy PVC codura. This material has a rubbery surface and a very dense weave, making it more durable. However, it is worth knowing that PVC kodura is more expensive than polyester material.
Sewing machine, needles, threads
To sew covers for garden furniture, of course, you need a sewing machine. You do not need to have professional equipment to sew covers for a garden lounge set. A machine designed for home use will suffice for this. However, remember to fit it with a new fine needle and thick, strong thread. Do not take the risk of fastening the fabric, as holes will be left in the fabric and it will no longer be waterproof. Instead of fastening, we recommend using fabric glue.
Removing the measure and preparing the pattern.
Garden covers, in order to fulfill their protective function, must be of the right size and shape. To be able to prepare a good die-cut, it is necessary to reliably remove the measurement. Measure your garden furniture and note the results on a piece of paper. When you take off the measurement, you can proceed to prepare the design of covers for garden furniture. To avoid mistakes, prepare a die-cut from thick paper. Remember to check the measurements carefully and include a reserve of about 2-3 centimeters for sewing the fabric pieces together.
main photo: pixabay.com/Sushuti