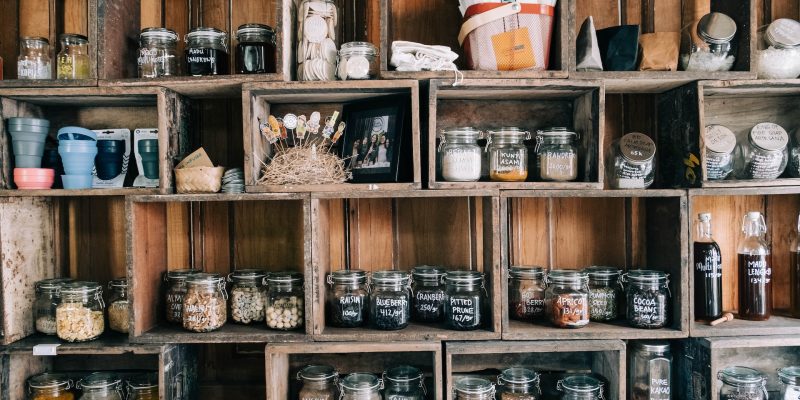 Do you have a pantry in your home? Or are you just considering whether to include it in the design or during the renovation? One thing is certain – a pantry comes in very handy. We have checked how best to organize it to guarantee the best storage conditions for preserves. Check it out and use our tips!
Preserves – what do you need to know about them?
Homemade preserves can be prepared from seasonal fruits, vegetables and forest mushrooms. They are usually closed in glass bottles and jars of various capacities, with airtight lids and lids, so that no air can get inside. What exactly is covered by this term? Jams, preserves, mousses, jam, syrups, juices, compotes and tinctures, pickles, purees, pickled mushrooms, pickles and much more – in sweet and salty versions.
The key rule in storing homemade preserves is to use them up within a year at most. It is no coincidence, therefore, that the month and year of production and the type of preserves are written on the label or on the cap. If we make many jars each season, signing them ensures that we will eat the oldest ones first, and not the ones just made. The exceptions are wines and liqueurs, which can keep longer.
Organization of the pantry – temperature and general conditions
A pantry is an additional utility room that does not have to be large at all. Even a small area is enough (even in an alcove under the stairs, next to the kitchen or at the exit to the garage), so that shelves can be hung from floor to ceiling. But what requirements must it meet? First of all, there should be a cool temperature – 10-15 degrees Celsius. It also needs to be dry, well ventilated and shaded. Sunlight deprives preserves of their nutritional value and leads to their faster spoilage.
In addition, the floor – and even the walls – are best lined with tiles or stone. Why? It will be cooler that way and definitely easier to keep clean. And if the walls should already be painted, then with latex paint. As well as shelves – wooden ones should be covered with varnish, paint or stain. It is not recommended to leave the wood raw, because it can rot and become damp.
How to set preserves in the pantry? A few tips
Taking care of the right conditions in the pantry means that we do not need to install locked cabinets or drawers there at all. They can easily be simply open shelves. The more, the better, but with one caution. Let them be of different heights – some bottles are high, others lower, the same with jars. Let's adjust it to your requirements. The most important thing is to have free access to everything. In a large pantry, a special step or ladder is useful.
How to arrange preserves on the shelves? By type, that is, jams with jams, cucumbers with cucumbers, juices with juices and so on. This way we won't go through all the stock. Regularly check that the jars are still airtight and that mold has not appeared anywhere. If the preserves are over-processed, we immediately throw them out.
Of course, in the pantry there will be room not only for jars and bottles, but also for spices, dry goods, fresh fruits and vegetables, nuts, canned goods and tins. Then storage containers and baskets will work well. It is inadvisable to leave food in open bags – just clip them together or put them in an airtight container.
Use our tips and organize your home pantry! We guarantee that it will be extremely functional.
main photo: unsplash.com/Muradi