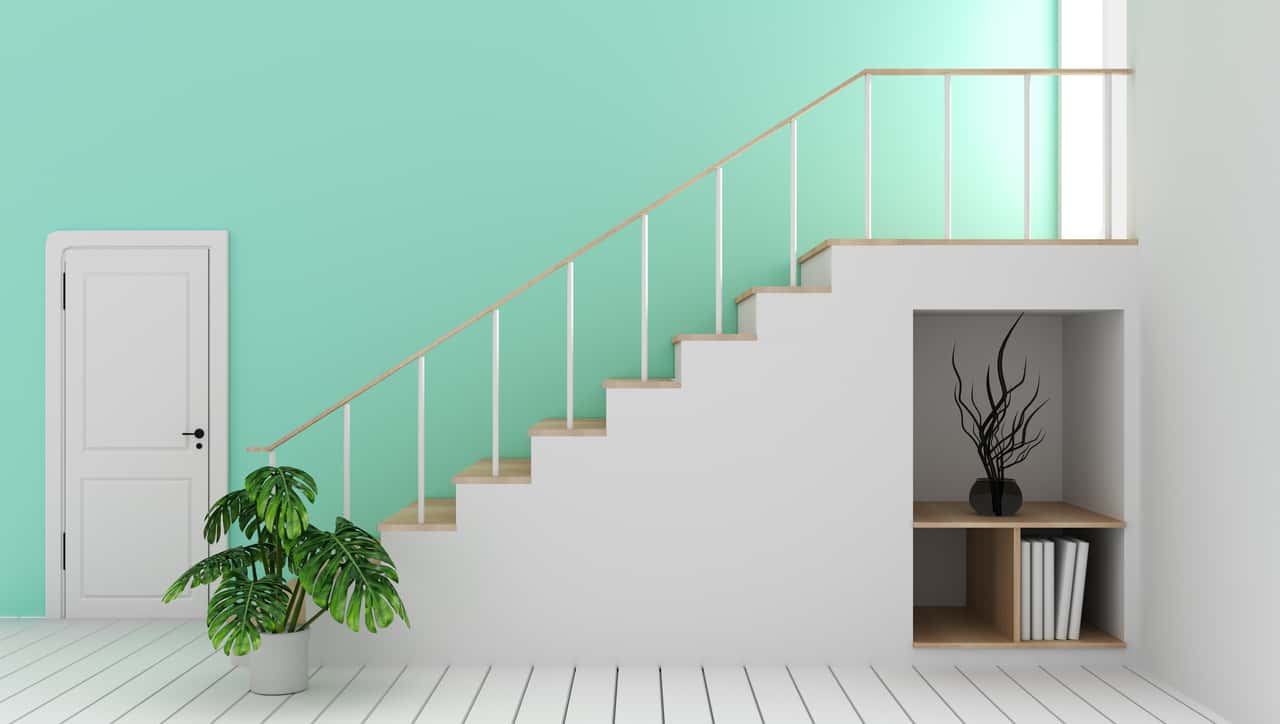 The space under the stairs in many homes or apartments is treated somewhat neglected, which is a pity, because it is an interesting space to arrange, which can be used in many different ways
Treasure closet
Many people decide to use the recess under the stairs to store various things. Most often in small houses or apartments, when the stairs are located in the hallway or on the porch, the hosts decide to build a recess under the stairs with a glass closet. And this is a great solution for small spaces. We gain a mirror and an additional place to hide, for example, a vacuum cleaner or an ironing board. This closet may have both opening doors and pull-out drawers
Shelves, small shelves
Open shelves will also look great under the stairs, where trinkets, awards and other things worth presenting can be displayed. This solution can also work well for example in a study, through which the stairs run. It will be a great place to store files with documents, as well as paper supplies or other office accessories. The alcove under the stairs itself can be your mini office. Just put in a desk, a comfortable chair or armchair. A few shelves will come in handy and that's it. Even in a very small space you can organize a cozy office room.
Library
All book moths will be satisfied with such solution. The recess under the stairs, which is located in the living room, can be easily transformed into a home library. Just add shelves and place books. In such a place you can also arrange a whole reading corner. In addition to books, you can put there a bench with comfortable cushions or an armchair. Who does not like such cozy spaces for reading?
Home art gallery
The space under the stairs can be also used as a home art gallery, where we can hang our favorite posters or paintings, or works of our children. Just think about the layout of our graphics, so that it looks interesting, add a place to sit (for example a comfortable chair) to admire and contemplate – and you're done!
Base for kids
We all know well how toddlers – the older ones and the younger ones, like to hide and build bases. If we have free space under the stairs, we can easily arrange a mini playroom, where kids can play or read their favorite books. It's also worth placing comfortable cushions and blankets there, in case they get tired
A home for your pet
An alcove under the stairs is also a perfect place for a dog or a cat. Just fill it with bedding and your pet's toys. The place for the pet does not have to occupy the entire space of the alcove. You can set aside part of it, the remaining space can be used, for example, to store food, leashes or other things related to your pet
Kitchen in the niche
In very small spaces, if the stairs run through the kitchen, we can install kitchen cabinets under them. In this way, we will use this space very practically and also gain an unusual look for the kitchen. With small spaces ingenuity is very important. The space under the stairs in the kitchen can be used as a pantry, just install shelves and doors. In such a storage we can easily fit all our preserves and supplies
>> See also: How to make a hall closet step by step
Mini powder room
In the recess under the stairs you can also arrange a so-called powder room, or a tiny toilet, where you will find, among others, a mirror, sink and toilet. Admittedly, it is an idea for a slightly larger space under the stairs. However, it is not unfeasible, you just need to plan the place well.