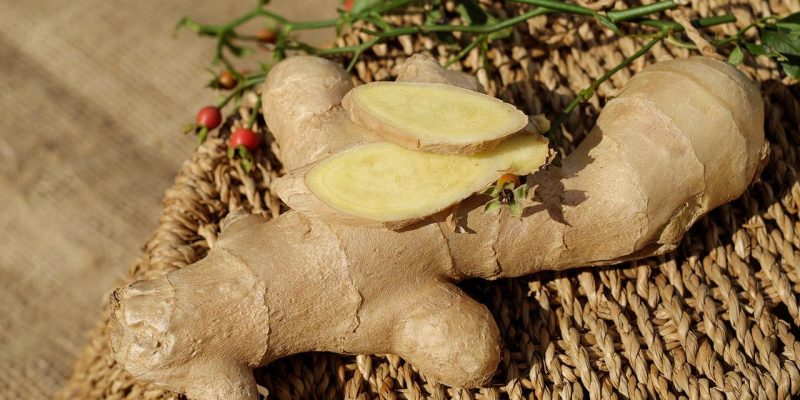 The health-promoting properties of ginger are impressive! This inconspicuous root has a lot of vitamins and minerals, so it is worth using it in the kitchen. See how you can use ginger when cooking.
Properties of ginger
Ginger root is a real vitamin bomb. It contains vitamins A, C, B1 and B2, as well as vitamin E and K. Ginger is also rich in folic acid and minerals (calcium, potassium, phosphorus and iron). Ginger yields essential oils with anti-inflammatory, expectorant, antibacterial and antiviral properties.
Ginger has a number of health-promoting properties. When consumed regularly, it reduces the risk of the formation of congestion and blood clots, raises blood pressure and has a beneficial effect on heart function. According to specialists, ginger root is good to consume in states of physical and mental fatigue, as it improves concentration, adds energy and vitality.
According to many women, ginger is also invaluable during nausea during pregnancy. According to them, a slice of ginger added to tea can work wonders.
Remember, however, that the use of ginger is not recommended for everyone. It is a spicy spice that should be avoided by breastfeeding women, people with stomach and intestinal ulcers, and those suffering from hyperacidity or hypertension.
If you are in doubt about whether your health condition allows you to consume ginger, consult your doctor.
Ginger is worth using during a cold
Tea with ginger is invaluable during a cold that runs with upper respiratory tract inflammation. Ginger dilutes mucus, relieves coughing, and also has analgesic and antipyretic effects. To tea with ginger it is also good to add cinnamon, lemon, as well as honey and turmeric – the drink prepared in this way has strong warming and inflammatory properties.
Ginger as a spice
Ginger is a very important spice in Chinese cuisine. In Poland, it is not used often, but we must admit that it is becoming increasingly popular. We can buy ginger in the form of root, powdered spice, as well as in the form of preparations: candied or pickled.
Ginger works well as a seasoning for dishes and as an ingredient in spices added to cakes and gingerbread. Its spicy flavor blends well with allspice, pepper, bay leaf, cloves, cinnamon and nutmeg.
Remember that ginger can be added not only to cakes and tea. Its use in cooking is definitely wider. It is an excellent seasoning for boiled carrots, pumpkin soup or broth (a piece of ginger root added to meat and vegetable broth will give it a slightly spicy and more robust flavor). If you like to prepare fish, try adding a little dried ginger to their baking. Thus prepared fish will gain a unique, slightly oriental flavor.
It is worth knowing that ginger is an important ingredient of curry. So it goes perfectly with rice dishes and salads.
main photo: pixabay.com/Couleur