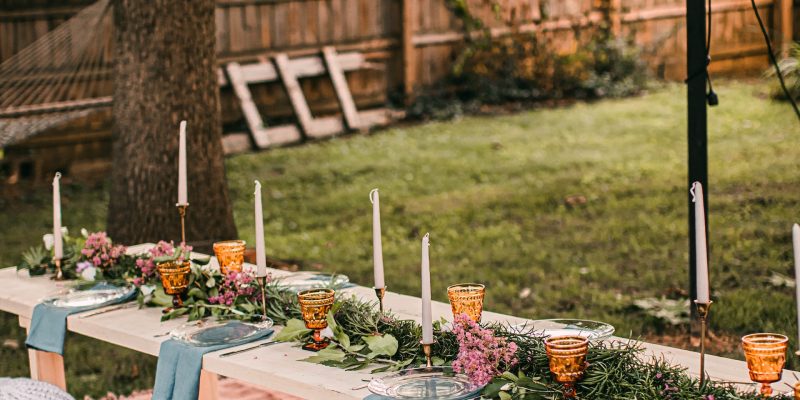 It would seem that there is nothing easier than to organize a party in the garden. In practice, however, it turns out that if you don't think through certain elements at the beginning and don't prepare properly, the party will be far from the expected ideal. This is not only about the logistics of preparation, but also all sorts of gadgets that will make the organization easier and make you a garden party master!
Without what won't a garden party succeed?
First of all, you need a plan from the very beginning. You need to know how many guests there will be, who they will be, will they be accompanied by children or maybe pets? Among other things, this will determine what you will need next, as well as where you will ultimately place the center of the party.
Also pay attention to the special needs of individuals and think about the additional attractions that will await them once everyone has eaten their meal. At this stage it is also worth considering what style you want to set the garden party in. If it's going to be a formal party, it will also be useful to have invitations on which you put the place, date and time of the party, and you can also mention the style, so your guests can match it with appropriate outfits.
A place to eat and a relaxation area
Depending on the number of guests, you can hold the party on the terrace or in a garden gazebo. However, if the number of guests exceeds the space capacity of these locations, it will be safer to rent an outdoor tent or set up a table and chairs on the lawn, where everyone will find a place for themselves. It's also a good idea to provide at least a small relaxation area, which can include deck chairs, a hammock or a spread picnic blanket.
Music
At any party, sound system and music are important. A garden party is no different here. If you don't have the ability to connect outdoor playing equipment (it can be a regular radio or a computer with speakers, from which a pre-created playlist will flow) it is worth thinking about a portable bluetooth speaker that can be connected to your phone.
Games and activities
In addition to food, it's worth organizing other activities. A great idea will be all sorts of games and activities that are best done outside. It can be a frisbee, a ball and goal, a spread net for a volleyball match, a badminton set or miniature golf. There are many ways to organize your time, but remember to adapt it to your guests and the type of event.
Buffet
Buffet, or food and other kitchen accessories. For garden parties, a barbecue will be perfect, but you can prepare other foods and just bring them. A bonfire can also be a cool alternative. In terms of gadgets, all sorts of beverage jars will work great, especially those with faucets that no insects can get into. Crockery and practical platters on which to place your treats will also come in handy.
Lighting
If the party is to be held in the evening or you know it will last long into the night, it is worth thinking about lighting. These can be decorative lights rolled out between the trees, lanterns of various kinds, portable or solar lamps. When you want to create an atmosphere, you may be tempted to use candles and lanterns.
main photo: unsplash.com/tabitha turner